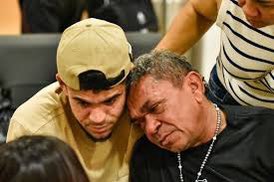 The Colombian football federation announced on Tuesday that winger Luis Diaz, who plays for both Liverpool and Colombia, has finally reunited with his father following the latter's tragedy of being abducted.
The Marxist National Liberation Army (ELN) freed Luis Manuel Diaz, 58, on Thursday, 12 days after taking him captive in Barrancas, a rural municipality in the northern state of La Guajira, on October 28.
During this time, the winger stayed with Liverpool until Sunday's Premier League victory over Brentford.
After that, he left to travel to Colombia in time for Thursday's World Cup qualifying match against Brazil.
On X, the platform that was formerly known as Twitter, the Colombian FA posted images of the touching reunion between a father and son along with the message, "we are family."
Despite the challenging experience of being abducted, Diaz's father has declared that he will stay in Colombia.
"My aspirations are to continue in my town because I have my entire family in my town," he told a press conference on Friday.