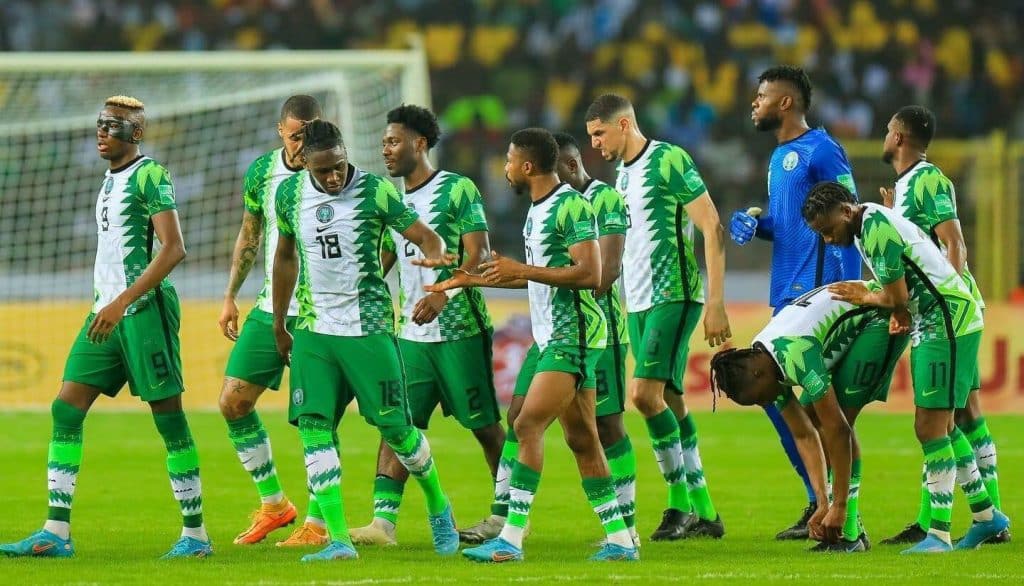 Nigeria Super Eagles has adopted the catchphrase "Let's Do It Again" as their rallying point in hopes of winning a fourth Africa Cup of Nations championship in Cote d'Ivoire.
The idea was put forth and unanimously approved before the final AFCON 2023 qualification game in Uyo last month against the Falcons and True Parrots of Sao Tome and Principe.
It served as the inspiration for players and officials to wear t-shirts with the inscription after the game at the Godswill Akpabio Stadium, Uyo. That contest was won 6-0 by the Eagles.
Nigeria won the 1980 AFCON that it hosted, as well as the finals in South Africa in 2013 and Tunisia in 1994.
"We like the phrase because it gives us confidence and the go-go push.
" We have done it before so we can do it again.
"Winning the Africa Cup of Nations in Cote d'Ivoire is our goal and we have the team to do just that."
"When I look around, I see players who have the ability to make it happen, said defender Kenneth Omeruo.
"We all have aspirations. The team is made up of both inspiring young talents and seasoned veterans. We'll compete in Cote d'Ivoire for the prize.
The song continues on Friday when the Super Eagles, who completely destroyed Sao Tome and Principe, play Saudi Arabia in a friendly at the Estadio Municipal de Portimo in Portugal.
Only twice will these two nations face off at the highest level of international competition.
The sole prior meeting was also a friendly match, held on May 25, 2010, at the Alpenstadion in Wattens, Austria, as part of the Eagles' preparations for the FIFA World Cup finals in South Africa.
In that scoreless match, Nwankwo Kanu, one of just two players to represent Nigeria at the FIFA World Cup, served as captain of the Super Eagles.
Jose Peseiro, the head coach of the Super Eagles at the moment, was that day's Saudi Arabian coach.
Before their November 2026 FIFA World Cup qualifying matches against Lesotho and Zimbabwe, the Eagles play another friendly game on Monday at the same location against the Mozambican Mambas.