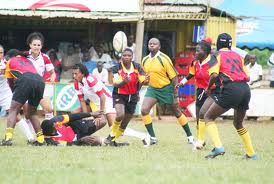 Uganda has got the chance to compete in the Women 15s Rugby World Cup after a new qualifying format was approved by the rugby governing body (IRB) starting with the 2014 France tournament.
The qualifiers that kick-off mid this year will see the winner between Uganda and Kenya in the women Elgon Cup face-off withSouth Africa for the only Africa slot in the world cup, unlike previously when South Africa had an automatic slot.
"This is a great opportunity for us to play in world cup but we have to start training for the national team earlier," former women rugby chairperson Irene Namapii and current national team player stated.
"Our women 7s team has ever been in the world cup and I am confident the 15s team can make it if given good preparation," Namapii stressed.
The global qualifiers kick start the process when Ireland take on Wales on February 3 but Uganda faces Kenya in the Elgon cup between June and July before the winner later faces South Africa for the final qualification.