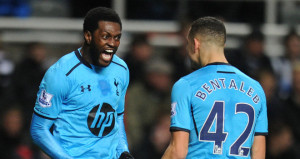 Tottenham is already working on the new season. According to The Standard, Mauricio Pochettino has no intention of parting with Emmanuel Adebayor. The new Spurs manager intends even to make the Togolese his sure bet for the next season. This should also delight the former Gunner who is willing to consent to financial efforts to stay in London.
Fond of a 4-2-3-1game system, Pochettino will need the services of Emmanuel Adebayor capable of evolving lonely in the attack to cause enormous problems to opposing defenses. The Argentine technician is a fan of this game as when he led Southampton.
Adebayor was one of the architects of Tottenham's qualification for the Europa League next season after being confided by Tim Sherwood. However, as recalled by The Standard, Pochettino must wait for the desires of President Daniel Levy more reluctant to keeping players aging 30 in his workforce. Especially in the case of Adebayor who remains the highest paid man in club.