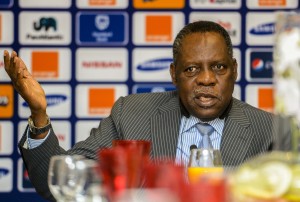 Monday in General Assembly in Sao Paulo, Brazil, African soccer leaders have faced up behind Issa Hayatou, President of CAF (Confederation of African Football) to denounce "smear campaign and slander" which they believe to be victims of by some British media.
This release is secondary to accusations of corruption in the Sunday Times this week against several leaders of African football for the attribution of the 2022 Qatar World Cup. CAF denounced "repeated attacks, deliberately hateful, defamatory, degrading of some media, especially British  newspapers" and complains about "the strategy to use the African sports movement and its leaders as scapegoats by those who seek by all means to buy a good conscience ".
The statement sanctioned by this Assembly also notes that the continental body reserves the right to resort to justice "so that those responsible for the campaign of denigration and calumny against the leadership of African football face justice for their actions".