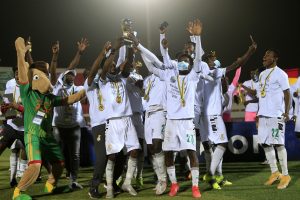 The 2021 Total U-20 tournament was concluded on Saturday with Ghana winning the title following a 2-0 victory against Uganda.
The competition did produced some stunning results as some players dazzled and showed the prospect of becoming stars in the future.
To that effect, the team of the tournament was released with Ghana forward Abdul Fatawu Issahaku emerging as the best player of the tournament which was hosted in Mauritania.
Issahaku's dazzling performance was instrumental to the Black Satellites claiming the title on a day Ghana also celebrated its 64th Independent Day.
Issahaku scored twice for the Ghanaians enroute to winning their fourth title, but it was his artistry of the ball and efficiency in Ghana's attacking flow, coupled with his dead ball mastery that caught the eye of the Technical Study Group (TSG) which crowned him best.
He also made it to the tournament's best XI alongside Ugandan player Derrick Kakooza who emerged as the highest goal scorer with Burkina Faso's Joffrey Bazie.
Ghana goalkeeper Danlad Ibrahim who won the tournament's Golden Glove also makes the tournament's best XI. Another finalist who made the best team is Ugandan left back Abdul Aziz Kayondo.
Meanwhile, Ugandan coach Morley Byekwaso was named the coach of the tournament after guiding Uganda to the final in their debut appearance while the Hippos won the Fair Play Award.
Here is your Total U20 AFCON team of the tournament:
GK: Danlad Ibrahim (Ghana);
DEF: Abdul Aziz Kayondo (Uganda), Jawara Lamin (Gambia), Blondon Meyapya (Cameroon), Flory Yangao (Central Africa Republic);
MF: Lamarana Jallow (Gambia), El Mehdi El Moubarik (Morocco), Chiheb Labidi (Tunisia);
FW: Joffrey Bazie (Burkina Faso), Derrick Kakooza (Uganda), Abdul Fatawu Issahaku (Ghana).
Coach: Morley Byekwaso (Uganda).
Here is your Total U20 AFCON team of the tournament
Best Goalkeeper-  Danladi Ibrahim
Best Player-  Abdul Fadawu Issahaku
Top Goalscorer- Derrick Kakooza