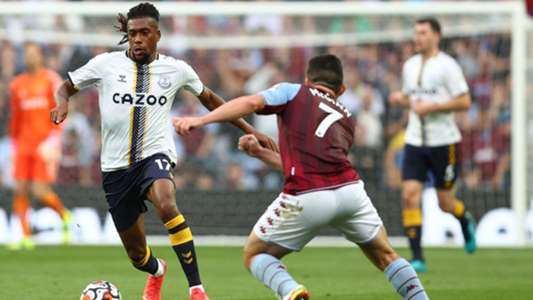 Everton manager Rafa Benitez says if Iwobi and others had taken their chances it would have averted a defeat for the club.
Alex Iwobi and his Everton teammates fell to a 3-0 defeat at Villa Park to Aston Villa which was their first league defeat of the season.
Iwobi played who had a cleIar chance to have scored did not complete the game as he was substituted out in the 80th minute.
Benitez in his post-match interview with the club media said choosing the wrong option in attacking situations and a sluggish reaction to conceding first cost them their unbeaten Premier League record at Aston Villa.
Everton were without a handful of important figures in the Midlands and Benitez revealed the missing trio of Richarlison, Jordan Pickford and Seamus Coleman will be sidelined for "a minimum of two-to-three weeks".
Striker Salomon Rondon played from the start in the absence of regular number 9 Dominic Calvert-Lewin and the Venezuelan came close on three occasions in the first half to marking his debut with a goal.
Everton repeatedly motored forwards on the counter-attack and one of their standout performers, Demarai Gray was a whisker from opening the scoring 60 seconds before Matthew Cash broke through for Villa on 66 minutes.
Lucas Digne's own goal doubled the hosts' advantage three minutes later and Villa were out of sight when Leon Bailey escaped down the left for a third goal in nine minutes.
"We started the game quite well and in the first half had a lot of situations on the counter-attack where the final decision was not right – but we were very close," said Benitez.
"In the second half we had a couple of chances, that could have meant everything was totally different.
"Then we conceded the goal and very soon conceded a second and it was difficult for us.
"Salomon, Demarai Gray and Alex Iwobi [had chances], so we had two or three situations where it could have been different.
"We made mistakes and we made them too early, too close, then it was difficult to react and that is something for the future, hopefully, we can manage.
"Either not concede, or if we do concede, react like we did in our games at home.
"The two goals were too close and then it was more difficult."