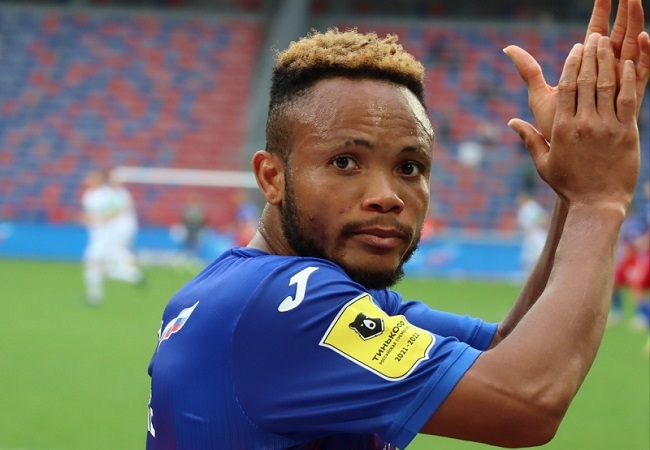 Chidera Ejuke suffered injury during the closing minutes of CSKA Moscow's 2-0 win against FK Nizhny Novgorod on Monday evening. And the club's manager Aleksey Berezutski has provided an update on the Super Eagle's health state.
The Nigeria international provided the assist for the opening goal scored by the Muscovites just past the half hour mark.
Nine minutes from time, Ejuke fell to the turf after suffering a leg injury near the penalty area as he was trying to beat a FK Nizhny Novgorod player.
Ejuke took off his boots. And he was able to walk off the pitch without the assistance of the medics.
"As for the injury- as I understand it, his leg just came together. We'll find out in the near future. But I don't think he has anything serious." Berezutski said to CSKA Moscow's official website when asked to rate the performance of the Super Eagles star and how serious the injury he sustained.
"Yes, indeed, he began to make the right decisions more often. But not as often as we would like."
According to the statisticians at OPTA, Ejuke is the top dribbler in the Russian Premier League after nine rounds with 26 dribbles completed (including 4 today vs Nizhny Novgorod), at least five more than any other player in the league.
Also Read : CHIDERA EJUKE THE SEVENTH FASTEST PLAYER AND WILFRED NDIDI THE HIGHEST RATED NIGERIAN
Nigeria manager Gernot Rohr will be monitoring developments in Russia regarding the fitness of Ejuke as he is expected to announce his roster for the upcoming World Cup qualifiers in the coming days.
Also read : SUMUEL CHUKWUEZE RESUMED FULL TRAINING AHEAD OF MANCHESTER UNITED CLASH