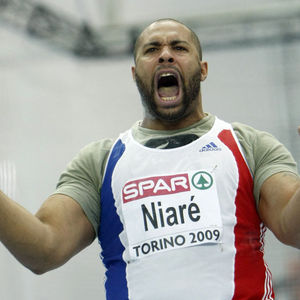 Yves Niare, France's national record holder in the shot put, has been killed in a road accident.
The 35-year-old, who won the European Championship silver medal in 2009 and competed at the 2008 Olympics, died on Wednesday morning, the French Athletics Federation (FFA) have confirmed.
A statement from FFA president Bernard Amsalem read: "It is a tragedy which affects me with unbelievable force.
"Yves Niare was an endearing athlete with whom I had great friendship.
"On behalf of the FFA, my thoughts are with his wife, his very young son and his father, a skilled coach."
Niare's father Namakoro represented Mali in discus, competing in three Olympics and winning gold medals at the first three All-Africa Games.