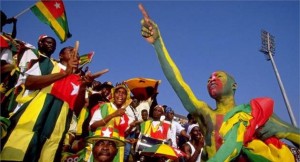 Unusual scene Sunday at Pilanesberg Airport. Togo and Tunisia, the opponents for a place in the quarter-finals of the Afcon 2013 had to take the same flight to go to their new base camp in Nelspruit. But it was not so simple.
While the flight was scheduled to 13h 30, the Carthage Eagles are arrived at 15h, the anger of Didier Six and Emmanuel Adebayor.
To justify their delay, Tunisians said they have discovered that arriving at the airport they shared the same flight as the Hawks. This has therefore nearly created a muddle between the two teams, but finally everything was back in order.
The Hawks and the Eagles of Carthage have therefore flew together to join Nelspruit.
Wednesday, they will also share the same lawn for a common goal: to qualify for the quarter-finals of the Afcon. Not sure there is a compromise in the end!
From our special correspondent in Nelspruit, Steven Lavon