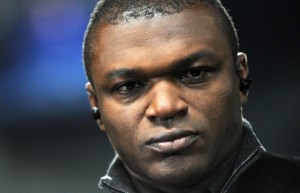 Marcel Desailly makes the buzz today despite himself on many sites around the world. He is in South Africa where the Africa Cup of Nations of football is being played. And he would have slapped a journalist.
He would have badly understood this little phrase of an Algerian journalist: "You are not on size, Marcel, but rather Zizou".
The 1998 world champion, Marcel Desailly, consultant of Canal + would have struggled to keep his composure.
Furious, Marcel imposed a sacred slap in the Algerian before asking him if he wanted to fight …
Marcel Desailly has also been criticized in Togo since he announced the elimination of thye Hawks of Togo in the first round of the Afcon 2013.
In short, he went through a bad time ….