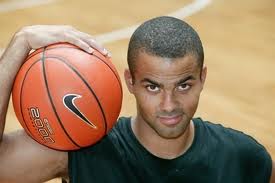 William Anthony "Tony" Parker, Jr. (born 17 May 1982) is a French professional basketball player who plays for the San Antonio Spurs of the National Basketball Association (NBA) in the United States.
The son of a professional basketball player, Parker played for two years in the Frenc basketball league before entering the 2001 NBA Draft. He was selected by the San Antonio Spurs with the 28th overall pick in the draft and quickly became their starting point guard, helping the Spurs win three NBA championships in 2003, 2005 and 2007. Employing his pace and high field goal percentage to great effect, Parker has been named to five NBA All-Star games, an All-NBA Second Team, and an All-NBA Third Team. He was the 2007 NBA Finals MVP.
Parker is also a music artist with his own music album TP. He married actress Eva Longoria
Early life
Parker was born in Bruges,Belgium, but raised in France. His father, Tony Parker Sr., an African American, played basketball at Loyola,University Chicago as well as professionally overseas. His mother, Pamela Firestone, is a Dutch model. Parker enjoyed close relationships with his brothers and they would often attend their father's basketball games together. At first, Parker was more interested in soccer, but after watching the evolution of Michael Jordan into a global basketball superstar, he changed his mind. Moreover, Parker's two younger brothers were also heavily involved in basketball; T.J. and Pierre would go on to play basketball at college and professional levels. As Parker built his skill, his lack of size (notwithstanding a growth spurt at 15) decided his position on-court. He played the point guard position, recognizing that his speed and agility made this position ideal for him. He was eventually talent-spotted and asked to attend the National Institute for Sports and Physical Education in Paris. After playing in the French amateur leagues for two seasons, Parker turned professional and signed with Paris Basket Racing in 1999.
In the summer of 2000, Parker was invited to the Nike Hoop Summit in Indianapolis. There, in front of professional scouts and college coaches, he competed against the likes of future NBA players Darius Miles, Zach Randolph and Omar Cook. In a contest between the American and European All-Star, Parker recorded 20 points seven assists, four rebounds and two steals. The Frenchman's performance prompted a recruiting war between several colleges, including UCLA and Georgia Tech who were on the verge of persuading Parker to join them. However, Parker decided to forgo the NCAA and to remain in France; he spent the next two years with Paris Basket Racing in the French League before entering the NBA Draft 2001.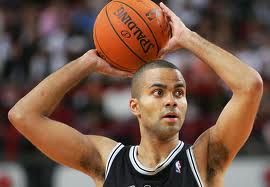 International career
Parker with French National Team in 2011.
Parker played for France's Junior National Teams at the 1997, FIBA Europe Under-16 Championship both the 1998 and 2000 FIBA Europe Under 18 Championship, and the 2002 FIBA Europe Under 20 Championship. He was elected the Most valuable player of the 2000 FIBA Europe Under-18 Championship, when France captured the gold medal, and Parker averaged 25.8 points, 6.8 assists and 6.8 steals per game. With the French senior national team, Parker has played in the 2001, 2003, 2005, 2007, 2009, and 2011 FIBA European Championships.
France won the bronze medal in the 2005 FIBA European Championships, by defeating the Spanish national team 98–68 in the bronze medal game. As the captain of the French national team since 2003, Parker was slated to lead France at the 2006 FIBA World Championship, but he was unable to play after breaking a finger when he caught his hand in the jersey of a Brazilian national teamplayer in France's final warm up for the tournament. During the 2007 FIBA European Championship, Parker averaged 20.1 points per game and 2.8 assists per game in nine tournament games, but France was defeated in the quarter-finals by the Russian national team He passed the FIBA World Championship to recover fully from some injuries he had during the 2009-10 NBA season Parker returned to the team in 2011, and France reached the finals of the FIBA European Championship, losing to Spain. Parker also joined the team for the 2012 Summer Olympics in London.
Player profile
Parker plays the point guard position and has established himself as a potent scorer. Voted by his peers in a 2007 poll as one of the quickest players in the NBA, he often slashes to the basket for a layup or teardropshot. Despite his relatively small size for a basketball player (6'2″), he led the league in "points in the paint" for a large portion of the 2005-06 season
In the initial part of his NBA career, Parker was still considered an erratic shooter of the ball and during the 2005 off-season, coach Popovich decided to work on this aspect of his play. Seeing his mediocre shooting percentages (at that point, Parker only hit 65% of his free throws and only 27.6% of his three points shots), he let him train extra sessions with Spurs shooting coach Chip Engelland. Engelland forbade Parker to shoot any three-point shots, and among others, corrected his shooting motion and his thumb position. As a result, by the 2006-07 season, Parker had reduced his three-point shots by 117 while shooting 147 more normal field goal attempts compared to 2005, and his accuracy rose by 4% (field goals and three-point shots) and he was able to connect on 78% of his free throws that season. Parker's field goal percentage is also high for a point guard, and his speed also makes him a fast break player. However, his style of play has had adverse effects on his knees
Honors
Team honors

NBA champion: 2003, 2005, 2007

Individual honors

NBA Finals MVP: 2007
NBA All-Star: 2006, 2007, 2009, 2012, 2013
All-NBA Second Team: 2012
All-NBA Third Team: 2009
All-time leader in assists for San Antonio
Member of the 2006 San Antonio All-Star Shooting Stars team. He sealed the victory by making the half-court shot on his first attempt, setting an All-Star Shooting Star record time of 25.1 seconds.[49] He was joined on the team by retired Spur Steve Kerr, and Kendra Wecker from the San Antonio Silver Stars of the WNBA.[49]
NBA Western Conference Player of the Month for the month of January 2013; first Spurs player to receive the honor since Tim Duncan in April 2002.

Individual honors for junior national team

FIBA Europe Under-18 Championship MVP: 2000

Other honors

Inducted into the with the rank of Chevalier: 2007
On the cover of NBA Live 0
Night club injury
Parker was injured while present at the W.i.P. nightclub in the SoHo district of New York City when a brawl broke out between Chris Brown and Drake. Parker filed a $20 million suit against the night club. Parker risked missing the 2012 Summer Olympics after a piece of glass thrown in the fight deeply penetrated his eye, requiring surgery to remove. However, on 6 July 2012, he was cleared to participate.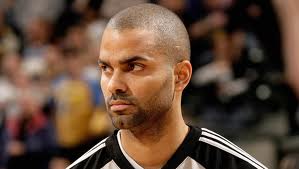 Read also:
http://en.africatopsports.com/2013/03/04/nba-parker-longer-than-expected/
http://en.africatopsports.com/2013/03/02/nba-tony-parker-got-injured-ankle-against-sacremento/
Here is a video:
http://www.youtube.com/watch?v=sYhe9g6uA8g