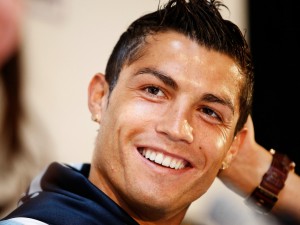 Former Manchester United hero Cristiano Ronaldo scored the winner as Real Madrid knocked out a Manchester United side controversially reduced to 10 men in the Champions League on Tuesday.
Ronaldo secured a 2-1 win for Real and a 3-2 aggregate success after the match completely changed when United winger Nani was sent off for a clumsy, but not deliberate, high challenge on Real defender Alvaro Arbeloa in the 56th minute.
The red card came as a total surprise and was the start of a terrible 13-minute spell that doomed the home side to defeat as Real, trailing 1-0, struck twice in three minutes through Luka Modric and Ronaldo to seal Real's place in the last eight.
Substitute Modric, only been on the field for seven minutes, lashed in Real's equaliser from 20 metres after 66 minutes and Ronaldo slid in at the far post three minutes later to turn in a cross from Gonzalo Higuain and seal Real's place in the last eight.
"Independent of the decision, the best team lost," Real coach Jose Mourinho told ITV. "We didn't play well, we didn't deserve to win, but football is like this.
"I am not sure about the decision, but independent of that, the best team lost."
Mourinho told Spanish television TVE he was disappointed by his side.
"I am happy that we are through but I expected more from my team," he said.
"When your goalkeeper is the best player on the pitch and you are playing against 10 men then that shows you are not controlling the match as you should.
"But you have to know how to suffer and how to win under those circumstances."
Nani certainly had his foot high as he challenged for the ball with Arbeloa, but did not see the Spaniard behind him and had his eye on the ball throughout the incident.
United manager Alex Ferguson raced down from his seat to remonstrate on the touchline with the officials and went storming down to the pitch after the match ended.
United players surrounded the referee at the end with Rio Ferdinand sarcastically clapping in his face, and although the decision badly affected United, at that stage, they were still leading with 34 minutes to play.
Mourinho, though, quickly changed the shape of his side in the wake of the dismissal, introducing Modric who had a huge influence, while Ferguson, did not bring on Wayne Rooney until 17 minutes from the end when United were 2-1 down.
SPECIAL NIGHT
It had started out as a special night at Old Trafford as 39-year-old Welsh winger Ryan Giggs made his 1,000th competitive appearance and Ronaldo was warmly greeted on his first return to the ground since he left for Real in 2009.
It seemed to be heading for a joyous finish too as United, who were playing the better football, went ahead after 48 minutes when Sergio Ramos turned a cross from Nani into his own net to put the home side 1-0 up and 2-1 ahead on aggregate.
United had gone close to opening the scoring after 21 minutes when Nemanja Vidic thundered a powerful downward header against Diego Lopez's left-hand post, only to see the ball rebound to Danny Welbeck.
The England forward had little time to react but shot first time straight at the keeper sitting on the line, who smothered it between his legs. TV replays, however, showed Welbeck was in an offside position and the goal would not have counted.
Both teams made chances as play flowed from one end of the pitch to the other, but United appeared to be the more settled side and went into a deserved lead, even though they were fortunate that Ramos turned Nani's cross into his own net.
Real, though, laid siege to United's goal after the hosts were reduced to 10 men, leaving United needing to score twice in the last 21 minutes after Modric and Ronaldo found the net.
Although Robin van Persie and Rooney went close, Real held out for the win to stay on course for a record-extending 10th European Cup success while Mourinho could become the first man to lift the trophy with three different clubs after his earlier successes with Porto in 2004 and Inter Milan in 2010.