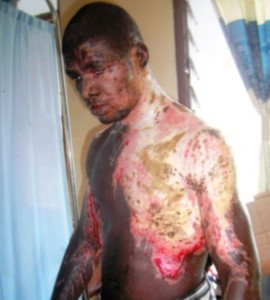 The image is shocking. It is the site moderghana.com which unveiled the news.
Beeko Yaw, player of Asante-Akyem in the Ashanti region, was showered with acid. The author would be Kwame Amoah, jealous husband who would have accused him of flirting with his wife.
The fact dates back to November 11, 2012. The police of the Amanshie District was alerted after receiving a complaint from the victim. Since Amoah was remanded in custody until Monday when he appeared before a court of Bekwai.
always pleading unguilty, Kwasi Amoah was imprisoned for a rehearing on March 20 next.
Yaw Beeko lost an eye in the incident. He was burned by acid on a large part of his body and is still in hospital in St. Martin Catholic Agroyesum.