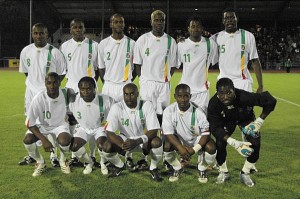 The coach of the Congo, Kamel Djebour released its list for the match of the 3rd day of the preliminary World Cup against Gabon.
24 players are concerned. The meeting will take place on 22, 23 and March 24.
Congolese selection
Goalkeepers: Barel Mouko, Christopher Mafoumbi, Gildas Mouyabi.
Defenders: Igor Nganga, Francis N'Ganga Mael Lépicier, Papou Makita, Ulrich Nzamba Mombo, Djodjo Miangounina Christopher Samba.
Midfielders: David Louhoungou, Oscar Ewolo, Delvin Ndinga, Gandzé Césaire, Herman Lakolo, Prince Oniangue, Julssy Boukama Kaya, Chris Malonga.
Strikers: Fabrice Ondama, Lys Mouithys, Harris Tchilimbou, Ladislas Douniama, Matt Moussilou, Franci Litsingi.