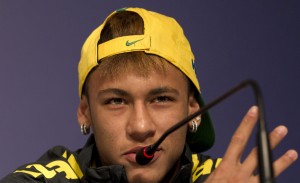 He has just signed today a five-year contract with Barcelona. But who is he really. Africa Top Sports.com investigated. One question remains to know whether he deserves the 54 million of his transfer, and if he will cope peacefully with Lionel Messi?
– His real name: Neymar da Silva Santos Júnior, commonly known as Neymar
– He was born February 5, 1992 in São Paulo, Brazil
– He has a brother named Jo Amancio and a sister, Rafaella.
Loves: – May 5, 2011: he confirmed being father of the child of a minor of 17 years old named Carolina Dantas, at a press conference after the victory of Santos FC in the quarter-finals of the Copa Libertadores against the Colombian club of Once Caldas
– August 24, 2011, he became the father of his son named Davi Lucca, born at the hospital in Sao Paulo.
Journey:
The Brazilian footballer became known while evolving as striker at Santos FC and the Brazilian national team. At 21, in 2013, he signed a 5 year contract with Bacelona for € 54 million.
Career:
FC Santos
– In 2005, when he was only 13 years, Real Madrid approached him but his father decided that he will remain at Santos.
– March 7, 2009 he made his professional debut
– April 2009: he agrees to join Olympique Lyonnais but unfortunately the league one federation refused because Neymar was not yet 18.
– In 2010, he won the championship with his team of São Paulo of football (or Paulista A1). He is the best player and best striker in the league.
– 2010: Chelsea wanted to pay the release clause of Neymar and offers 30 million Euros for the young player. But his leaders offer him a lucrative contract involving a release clause of € 45 million. Neymar agrees and extends until December 2015
– February 5, 2012: the day of his 20 years, he scored his 100th goal as a professional football player, against Palmeiras.
Barcelona – 28 May 2013, he signed a 5 year contract for € 54 million.
With Brazil
– October 2009: he participated in the World Cup of the less than 17 years in Nigeria with the Brazilian national team. He opens his counter right in the first game against Japan (Brazil win 3-2).
– July 26, 2010: he was selected by coach Mano Menezes for a friendly match against the United States on August 10, 2010.
– September 11, 2012, Neymar scored his first hat-trick with the selection, 8-0 victory against China.
Income:
– 2012: France Football magazine classes Neymar at the seventh rank in the list of the world's richest footballers, behind Lionel Messi (1) and Cristiano Ronaldo (3), with an income of approximately € 13.8 million, including salary, bonus and rights to the image.
– Early 2013: Neymar is ranked fifth highest paid footballers in the world with a sum near about 22 million Euros.
Various pubs / Business: – August 17, 2010, he appeared in a commercial for Gillette alongside his compatriots Cafu and Ganso.
– November 2010, it is a pub with his teammates at FC Santos, Ganso and Robinho for Nike, official sponsor of the World Cup.
– March 2011 he signed an 11-year contract with Nike.
– 2011: Panasonic commits $ 2.4 million to secure the services of the Brazilian nugget for two years.
– He is under contract with Volkswagen, Red Bull, Santander, Lupo
– 2012: he appears alongside Cristiano Ronaldo on the cover of PES 2012 video game of the Konami Company.
– November 27, 2012, created the NJR Neymar brand, initials of his full name with the help of the Brazilian agency Loducca.
Awards:
In national selection
– 2011: Campeonato Sudamericano U20 (1)
– 2012: Summer Olympic Games Silver Medal
– 2011 and 2012: Superclásico de las Américas
In the club
Santos
– Paulista A1: Champion: 2010, 2011 and 2012
– Brazilian Cup: Winner: 2010.
– Copa Libertadores: Winner: 2011.
– Recopa Sudamericana: Winner: 2012