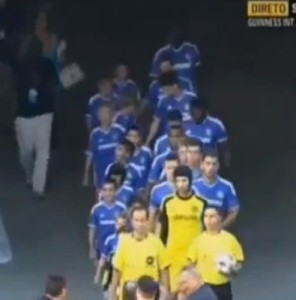 As Africa Top Sports has reported, the men of Mourinho beat AC Milan after a little game by 2-0.
De Bruyne has opened the score with a cross shot (29th). They scored a second goal in the 92nd minute by Schürrle.
Here's the video of the goals.
José Mourinho was dreaming of it, he will meet Real Madrid in the final of the International Champions Cup which will take place on Wednesday.
The final will be exciting: Real won its first three games.
[youtube]http://www.dailymotion.com/video/x12ovbr_ac-milan-0-2-chelsea-highlights-goalsandsoccer-com_sport[/youtube]
[youtube]http://www.dailymotion.com/video/x12ovbr_ac-milan-0-2-chelsea-highlights-goalsandsoccer-com_sport[/youtube]
[youtube]http://www.dailymotion.com/video/x12ovz8_chelsea-2-0-ac-milan-highlights-04-08-2013_sport[/youtube]