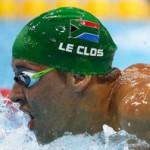 World swimming has just ended. The African contingent will stand behind the performance of Chad LeClos Van Der Burgh and Zorzi.
Some swimmers such as Osama Sahnoun, Marwan Ismail, Mohamed Khaled, Ahmed Akaram, and Mohamed Gadallhqui are sihns of good prospects for the future.
No medal or African record is registered for the African nations of Western, East Africa and Central Africa. Mael Seror, our correspondent during this World Champs has collected the impressions of Claude Monsengo-Leko, General Secretary of the Swimming Federation of the Democratic Republic of Congo, who spoke about this issue and wanted to appeal to the authorities of his country to contribute to the development of the discipline.
[youtube]http://youtu.be/hlOX4RoWwME[/youtube]