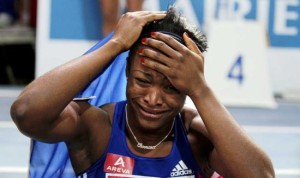 No medal for Antoinette Nana Djimou. She failed to reach the podium in the heptathlon. The Franco-Cameroonian finished eighth in the heptathlon at the World Championships in Moscow.
At the end of the javelin this morning, the French had won six seats, rising to the fourth place with a throw of 52.47 m. But after 800 m, the European 2011 Champion stuck on the track as expected, to downgrade to the 8th place with 6326 points.
Not being specialist the doubles lap, she ultimately did not happen to fight for a medal. At the bell, the French was still in the group. But she quickly lost ground.
The level of the 800m was very dense since the first eight athletes have all beaten their personal best. Fifth in the Olympic Games last year, Antoinette Nana Djimou ranks among the finalists for the third consecutive time in the World Championships.