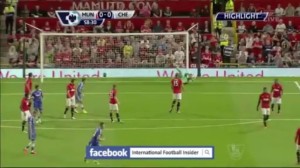 As the Africa Top Sports.com reported, Manchester United and Chelsea have made a 0-0 draw in shifted game during the second day of the Premier League. The Red Devils were hung 0-0 at Old Trafford for the first of David Moyes.
With Wayne Rooney holder, Man United tried by all means to win the three points. Robin Van Persie has not created many chances and Welbeck missed a huge opportunity. But the two trainings left the field on a draw.
The question is whether Rooney has played his last game for Manchester United tonight. He is coveted by Mourinho.
This morning, Jose Mourinho puts pressure on him: it's now or never…
Here is the video of the match
[youtube]http://www.dailymotion.com/video/x13q0j6_manchester-united-0-0-chelsea-highlights-26-08-2013_sport[/youtube]