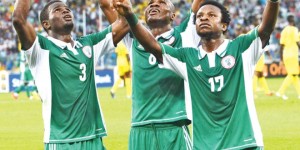 2012 champions of the African cup Nations,Nigeria has qualify to the 2014 World cup which will be staged in Brazil after beating Ethiopia 2-0 in Calaba making it 4-1 aggregate.
This makes Nigerians the first african team to qualify to the 2014 World cup. Liverpool striker Victor Moses punished the Ethiopians in a penalty spot kick in the early minute of the game. Ethiopians created all the chances in the game but always finds it difficult to find the net when the need arises. The first half ended 1-0 but the Ethiopians returned in the second half with hope to equalise and score the Nigerians to qualify to the World cup for the first time in the history of the country's football but Nigerians proved they were more poised to qualify to the World cup than the Ethiopians.
A powerful free kick from Nsor in the dying minute of the game sealed the deal for the Nigerians. The game ended 2-0 in favour of the Nigerians,this makes the Nigerians the first reigning AFCON champions to pick the first ticket to the World cup since 2002 as reigning AFCON champions has never been to World cup since 2002.