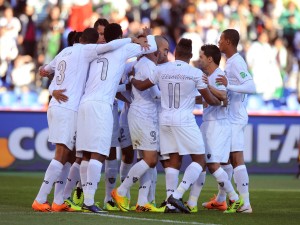 Bounce game this Saturday between Guangzhou Evergrande and Atletico Mineiro in Marrakech. For this ranking match, it took until the stoppage of the normal time to see the victory designating its side. Brazilians eventually took the upper hand 3-2.
It is Mineiro who went ahead in the game with an early goal from Diego Tardelli after only 2 minutes of play, but Muriqui allows Guangzhou back into the game with an equalizer in the 9th minute. Moments later , the Marcelo Lippi club gets a penalty converted by Conca. But just before going into the break, Ronaldinho equalized on a free kick.
The blow of Ronaldinho!
In the second half, the game became boring. Opportunities were very rare and we felt that the bodies are tired. Besides illustration of this general annoyance, the playmaker of the Galo , Ronaldinho is guilty of a very ugly gesture. Seeking to make justice after suffering a fault, the former Barcelona gives a kick to the opponent and is expelled. This is the 7th red card of his career.
[youtube]http://www.youtube.com/watch?v=8IBqRRWLxkU[/youtube]