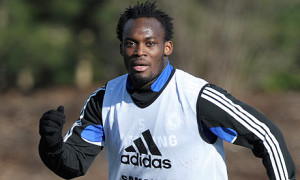 Michael Essien can leave Chelsea this winter. This was indicated by his agent, Fabien Piveteau in the micro of our colleagues RMC. But not to go to Bastia or another small club in Ligue 1.
"We must stop with this," said the agent who hears rumors flow around. " Michael plays at Chelsea, a big club. Then return to France, do not dream … In France he could play in Paris, Lyon … But Bastia or Sochaux, no disrespect, no. Support the salary of a Chelsea player, it is already impossible," he said.
And clarify the intentions of his player during the next transfer window: "he could leave Chelsea this winter. Several major European clubs playing in the Champions League were informed and it should settle down within the next ten days. You should know that Michael was not on the list of players who can play in the European Cup with Chelsea, so he is free to play C1 with another club."
In recent days, rumors indicate the willingness of Bastia to get the loan of Michael Essien.
Aged 31, the Ghanaian midfielder appeared only three times in the Premier League this season. In lack of playing time with the Blues, he may look elsewhere in January to better prepare for the next World Cup.