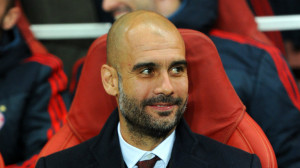 Cristiano Ronaldo felt pain in his left knee in the quarter- finals of the Champions League. An injury that has sidelined him for the final of the Copa del Rey against FC Barcelona.
His participation in the first leg of the Champions League semi-final against Bayern Munich is uncertain. But the Bavarians coach, Pep Guardiola wants his presence Wednesday on the lawn.
"I hope Cristiano will be able to play. We play for the public and the public wants to see the best," said the Catalan technician.
Guardiola also praised the qualities of the players likely to replace the Portuguese in the starting lineup. "Isco plays more with the ball in his feet while Cristiano loves taking space. But the team has the ability to play with Xabi Alonso (Luka) Modric, Sergio Ramos … I do not know how Real happen to recruit players who run enormously. (Angel) Di Maria, (Karim) Benzema, (Gareth) Bale, Cristiano kill you when they take space. It's not easy to play against them."