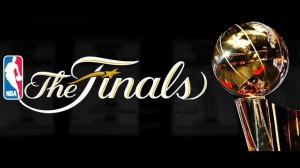 There are only four franchises still in contention for the title of the 2013-2014 NBA Champion. The conference finals of the playoffs start this Sunday.
Curtain raiser of the conference finals, the remake of last year in the East between the Miami Heat and the Indiana Pacers. This tussle is also that between double defending champion Miami and the Eastern Conference leader this season. Before the post- season, both franchises neutralized 2 everywhere in the regular season.
In the West the final opposes the franchise with best record in the league in the regular season San Antonio Spurs to their conference runners up, the Oklahoma City Thunder. Over the season, the best coach of the year Gregg Popovich could find no solution to the MVP of the season, Kevin Durant and his teammates; OKC had swept Texans. This poster was already that of the 2012 final.
The full schedule of the conference finals:
Eastern Conference: Miami Heat vs. Indiana Pacers
Game 1: Indiana vs. Miami, Sunday, May 18 at 21:30
Game 2: Indiana vs Miami, Wednesday, May 21 at 2:30
Game 3: Miami vs. Indiana, Sunday, May 25 at 2:30
Game 4: Miami vs Indiana, Tuesday, May 27 at 2:30
Game 5: Indiana vs Miami, Wednesday, May 28 (if necessary)
Game 6: Miami vs. Indiana, Friday, May 30 (if necessary)
Game 7: Indiana vs. Miami, Sunday, June 1 (If necessary)
Western Conference: San Antonio Spurs vs. Oklahoma City Thunder
Game 1: San Antonio vs. Oklahoma City, Tuesday, May 20 at 3
Game 2: San Antonio vs. Oklahoma City, Thursday, May 22 at 3
Game 3: Oklahoma City vs San Antonio, Monday, May 26 at 2:30
Game 4: Oklahoma City vs San Antonio, Wednesday, May 28 at 3
Game 5: San Antonio vs. Oklahoma City, Thursday, May 29 (if necessary)
Game 6: Oklahoma City vs San Antonio, Saturday, May 31 (if necessary)
Game 7: San Antonio vs. Oklahoma City, Monday, June 2 (if necessary)