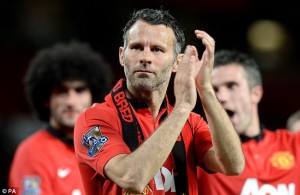 The day at Manchester United is very busy. Moments after the formalization of the appointment of Louis Van Gaal at the helm of its first team, the English club announced the retirement of Ryan Giggs.
It is in an open letter to fans that the Welsh says stop to his long career. The iconic No. 11 of Red Devils will no more play as footballer. He joined the coaching staff of the club assistant coach to Van Gaal. He had been acting this season right after the departure of David Moyes.
Giggs has played 963 games in the red jersey and won 34 trophies. He also played 63 times for Wales.
BREAKING: Ryan Giggs retires from playing. Read the new no.2's open letter to #mufc fans: http://t.co/IMtn2vdt52 pic.twitter.com/Io0mmPISBw

— Manchester United (@ManUtd) May 19, 2014
Ryan Giggs retires from playing for @manutd. Has Giggs inspired you? Share your thoughts #GetInspired pic.twitter.com/TJderJRVuE

— BBC Get Inspired (@bbcgetinspired) May 19, 2014