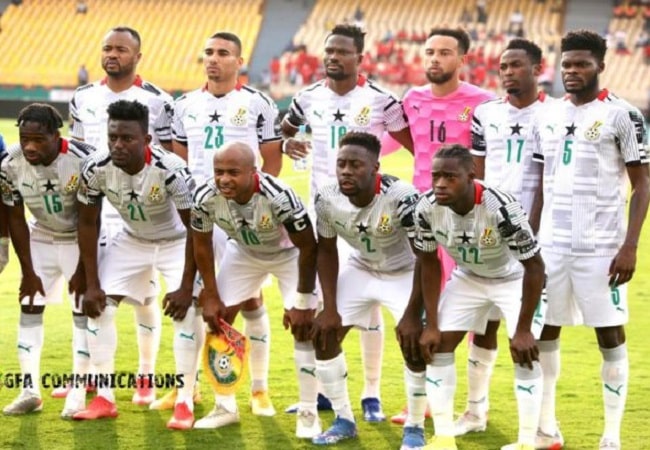 Ghana Ministry of Youth and Sports has directed the Ghana Football Association (GFA) to reconstitute the Management Committee of Black Stars. The ministry took the after an emergency meeting with the GFA on Friday, January 21.
Also read : GHANA SPORTS MINISTRY SUMMONS GHANA FA TO URGENT MEETING AFTER BLACK STARS' EARLY AFCON 2021 EXIT
At the meeting, the parties reviewed the performance of the Black Stars at the 2022 Africa Cup of Nations (AFCON). And they also discussed preparations towards the 2022 World Cup playoffs.
In a press release, the Ministry "made it clear to the GFA that the people of Ghana have lost confidence in the capacity of the current technical team of the Black Stars to deliver success."
The GFA was therefore also directed to "review the work and capacity of the current Black Stars' technical team, led by the head coach, Milovan Rajevac."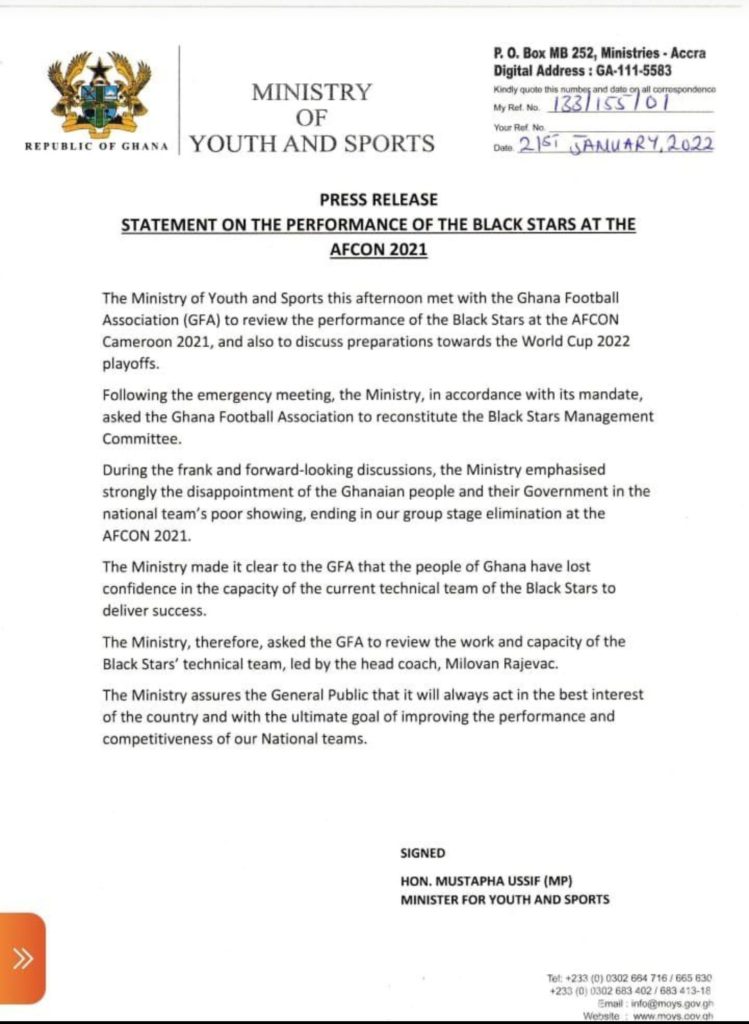 Prior to the meeting, the Sports Ministry had expressed its disappointment in the senior national soccer team for its abysmal performance at the ongoing AFCON tournament in Cameroon.
The Black Stars failed to advance from the group stage as the team exited the tournament with a point. The Sports Ministry's directives to the Ghana Football Association come at a time when some Ghanaians are calling for the disbandment of the current Black Stars team and the removal of Milovan Rajevac as head coach.
They argue that the current state of the team is not formidable to come up against any team in the World Cup.
Although the Ministry of Youth and Sports has not followed through with public demands, the Ministry has assured the public "it will always act in the best interest of the country with the ultimate goal of improving the performance and competitiveness of our national team".
By the way, the Ghana Football Association (GFA) President, Kurt Okraku says he accepts the blame for the Black Stars' poor performance at the 2021 Africa Cup of Nations.
Also Read : GFA PRESIDENT BELIEVES COACH RAJEVAC SHOULD NOT BE BLAMED FOR GHANA'S AFCON EARLY EXIT
"Our plans did not happen at the tournament. It is unfortunate and this is not what Ghanaians deserve. Ghanaians deserve a very very competitive team. A team that will bring glory to the country, a team that will bring happiness to our people." Okraku said peaking on Asempa FM.