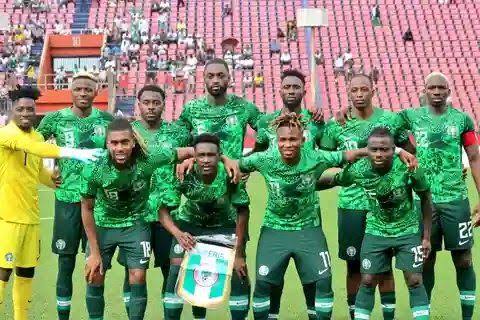 The Super Eagles of Nigeria remained at position 39 in the most recent FIFA Coca-Cola world rankings.
On Thursday, July 20, the most recent rankings were made available on the FIFA website.
The Super Eagles continue to hold down the sixth spot in Africa, trailing Morocco, Senegal, Tunisia, Algeria, and Egypt, which are ranked first, second, third, fourth, and fifth, respectively.
The only team that improved in the rankings is Lesotho, who the Super Eagles will play in Group C of the 2026 FIFA World Cup qualifiers.
Lesotho moved up to position 151.
Benin Republic and Rwanda retained their positions at 93 and 139, respectively, while South Africa and Zimbabwe fell to 63 and 125, respectively.
The top 10, which only includes South American and European teams, has not changed at all.
The defending world champions Argentina continue to lead the pack, followed by France in second and Brazil in third, with England in fourth, Belgium in fifth, and Croatia in sixth.
On September 21, the following FIFA/Coca-Cola World Ranking will be released.