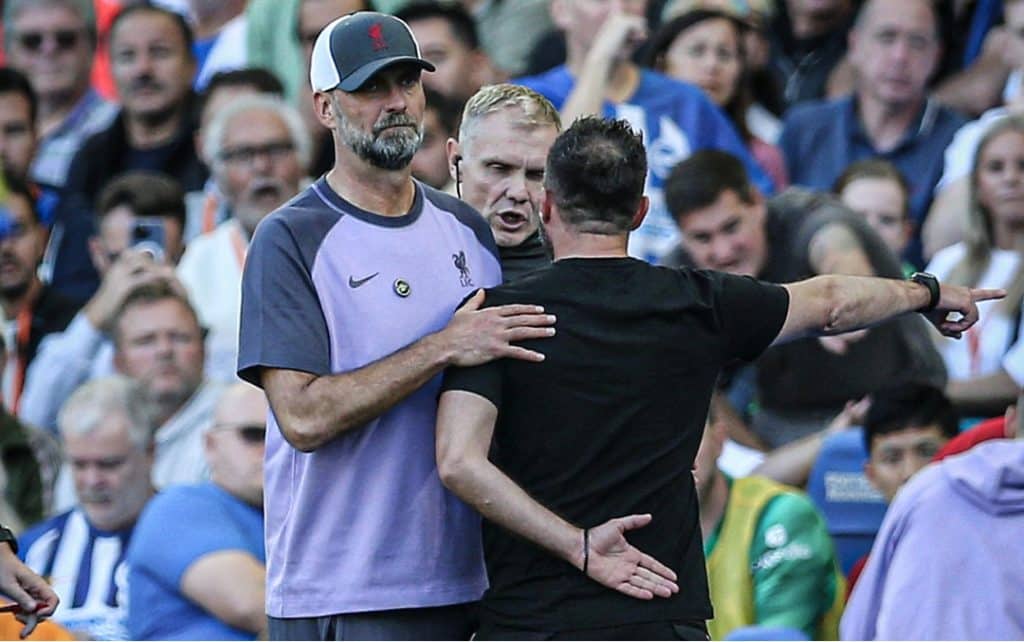 On Sunday, during a heated confrontation with referees on the sidelines of a 2-2 Premier League draw, Juergen Klopp assumed the position of the arbiter of peace by intervening to calm down Brighton & Hove Albion manager Roberto de Zerbi.
Referee Anthony Taylor issued De Zerbi a yellow card in the 69th minute of the match at the Amex Stadium for his protests after Brighton was not awarded a penalty when Kaoru Mitoma's effort struck Virgil van Dijk of Liverpool.
After being issued a booking, the Italian manager persisted in his protests until Klopp intervened and made an effort to calm him down.
"In the moment when he got a bit outraged I used my age and tried to calm him down," 56-year-old Klopp, who has himself clashed with referees on numerous occasions in the past, told reporters.
"I just saw if I am in a moment like this, there's a moment of no going back that appears.
"I think he was close to that and then I tried to calm him down.
" I am not sure if he needed it or not, you can ask him, but he probably told me something about the penalty, but I had no clue what he was talking about. I think he wanted a penalty…"
Asked about the incident, De Zerbi told reporters: "I love Klopp and he can do what he wants, because I have big respect for him and I consider him as one of the best coaches in the world," De Zerbi told reporters.
"I like his behaviour and when he says something, 99 percent of the time I agree with him. In that situation, I think there was a clear penalty.
"I told the referee, I think in a good way, what I thought."