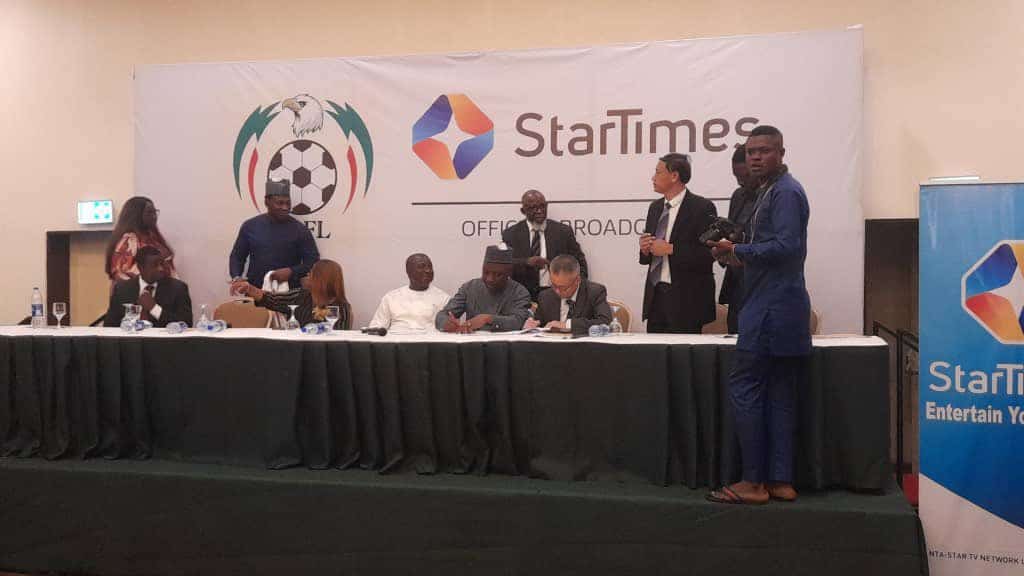 With the conclusion of a five-year agreement, Cable TV, StarTimes has been named an official broadcast partner of the Nigeria Premier Football League (NPFL).
The agreement cost cable TV one billion and sixty million naira (N1.06 billion), according to the NPFL management.
At the contract signing ceremony were representatives from both companies as well as Ibrahim Gusau, President of the Nigeria Football Federation.
The Sheraton Hotel in Abuja hosted the event on Thursday.
"It is a 5-year deal worth N1.06bn with Startimes, and potentially witness a 50 million naira increment annually.
" NPFL official revealed during the signing ceremony.
There will be two games on television starting on November 18 and four games on television starting on February 18, 2024, for the next two years.
then eight games every week for the following three years.
NFF president Ibrahim Gusau claims that the broadcast agreement aims to draw domestic football fans' attention away from overseas football competitions such as the English Premier League (EPL).
Two games a week would be televised live for the first several months as a test run for the broadcast, NPFL chairman Gbenga Elegbeleye explained.
In addition, the NFF Second Vice President stated that during the first two seasons of the broadcast agreement, there will be four live matches each week in addition to weekly match highlights of every league game.
Because of the broadcast agreement, Nigerians may now watch the premier league from the comfort of their homes.
After league matches were televised by the Nigeria Television Authority (NTA) following the 2015–2016 season, this would be the first time the league has been back on television.
Supersports televised the league as Enugu Rangers emerged victorious in 2015–2016.
Clubs used to broadcast their games live on social media sites like Facebook and YouTube.
The league struck an agreement with Propel Sports to broadcast the league on NPFLTV prior to the current season (2023/2024).