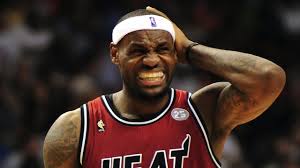 It is often rare to see Lebron James who gets angry during a match. With all that he has endured during the match, he was really in temper.The Heat star was tired of taking quick succession, and he reacted.
"First, let me some time to really think about what I'm going to say …
I believe, and I know that many of  mistakes on me are not basketball. First, there is that of Kirk Hinrich who  in the first half, cling to arms to make me fall.
Then there is the one of Taj Gibson who takes me by the throat, and sent me to the ground. This is not basketball. "
Here are videos:
http://www.youtube.com/watch?feature=player_embedded&v=mFbk01GD8Jg
http://www.youtube.com/watch?feature=player_embedded&v=q94xtYMoooA
http://www.youtube.com/watch?feature=player_embedded&v=yY1hHAJVtCw