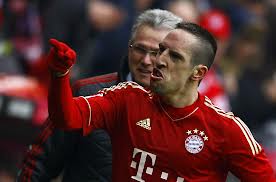 It's time for Franck Ribery to believe in a major distinction as the title of Ballon d'Or. While the potential candidates are Lionel Messi and Xavi Iniesta of Barcelona and Cristiano Ronaldo of Real Madrid will be absent from the final of the Champions League, the midfielder of the Blues him claims for this prestigious award.
Bundesliga champion, finalist in the Champions League and in the German Cup, the former Marseille also thinks to the Ballon d'Or. "Sure, he admits in L'Equipe. Now, this is not a priority. This trophy makes me dream. This is normal. "
To do this, you must fill out a contract of a tripled, Cup, championship and especially the Champions League. The French is aware.
"I do not think only to that Ballon d'Or "says Ribery. There, I think first of winning finally the Champions League and the German Cup. If Bayern wins all this season, it's time, then, to see what can happen to me then. "
If the French rocker alone the final, nothing can remove from him this "Golden Ball"