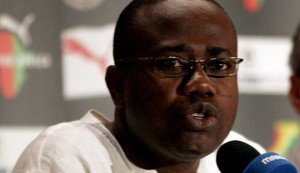 Ghana Football Association President Kwesi Nyantakyi has said the world's football governing body, FIFA will be held responsible should any unforeseen situation happens to the Ghanaian team, during and after the second leg-tie FIFA world cup play-off in Cairo. "
We will hold FIFA responsible since they owns the competition
.
Nyantakyi added that, the unrest situations in Egypt, still poses threat to the security concerns and believes the game could have been moved to a new venue. Egypt will host Ghana at the Air Defence Stadium after FIFA ruled that Egypt will be safe for the second leg-tie.
"When FIFA ruled that the match should go on in Cairo we were a bit surprise consideeing the security situation in the country but they took the decision based on the acceptance of the guarantees by the Egyptian government," Nyantakyi addressed.
Ghana will pitch camp in Addis Baba from 11th November before enplaning to Cairo for the crucial game on 19 November.