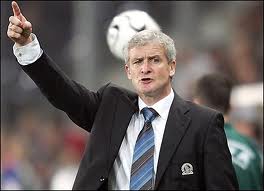 Recent Premier League (4 points in twelve games, no wins), QPR decided to sack Mark Hughes.
The technician 49 years arrived at the head of Londoners January 10, 2012 and had a contract until June 2014. Despite a whopping recruiting for a year and half, Djibril Cissé QPR cannot exist in the Championship. Mark Bowen and Eddie Niedzwiecki are charged with acting for the time when their club will face Manchester United this Saturday (16.00). Following numerous meetings over the last few days.
The boards of directors wish to thank Mark for his commitment, hard work and dedication in his 10 months in charge. Redknapp free since leaving Tottenham,Harry is the favorite to succeed Mark Hughes.
He has been out of work since leaving Tottenham Hotspur at the end of last season and was this week linked with the vacant manager's job with the Ukraine national team. That speculation could have forced Fernandes's hand.