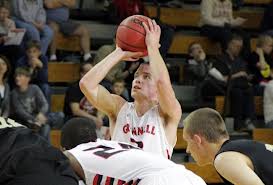 As it was, Taylor shattered the NCAA scoring record by 25 points Tuesday night in the Pioneers' 179-104 victory over Faith Baptist Bible in Grinnell, Iowa.
"It's unbelievable, honestly," James said. "I would like to see the game. I want to see the game."
"I watched Kobe's game when he had 81," James said. "I watched some of the greatest games ever played when guys scored big numbers. There are two games that I would love to see: One was Wilt, when he had 100, and this kid, I want to see him too. Sir Jack."
Taylor himself was still trying to catch his breath Wednesday.
"Honestly, it's still not settling in. It was hard to sleep," Taylor told The Associated Press after appearing on "Good Morning America" and the "Today" show.
Taylor hoisted a mind-boggling 108 shots, one every 20 seconds. Layups fadeaways and 3-pointers (27 of those) were all working in a display that had the NBA's basketball royalty buzzing a day later, from Kobe Bryant and Kevin Durant to Carmelo Anthony and LeBron James.
Wilt Chamberlin's record of 100 points scored in 1962 still stands as the NBA mark. Taylor was the third player in NCAA basketball with at least 100 points, but his performance was the most prolific.
James said he doesn't believe he's ever topped 56 points in any game he scored that many against Toronto in 2005, but didn't remember any game as a young player or high schooler where he had more.