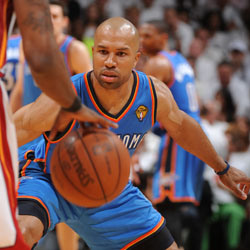 The chase began early and turned into something of an all-out sprint by prime time: the Oklahoma City Thunder sprinting across the Barclays Center court, the Nets pursuing furiously, doggedly, down to their last kick and their last flailing jumper.
Kevin Durant dunked and dazzled, Russell Westbrook shimmied, and the Thunder piled up points at a dizzying rate Tuesday as the Nets tried in vain to match one of the N.B.A.'s most electrifying offenses.
It finally ended in a 117-111 defeat, in what surely qualified as the Nets' most entertaining loss of this young season. They fell behind early, rode Deron Williams' hot shooting in the second half and kept pushing until Durant finally slammed the door.
It was, on balance, a better showing than the Nets had in Miami on Saturday night, when they were beaten, 102-89, by the Heat. Still, the consecutive losses to last season's two finals teams left the Nets with a clear sense of where they stand.
"I feel good," Williams said after breaking out for a season-high 33 points. He added, "These are two teams that have been together for a couple years and they've won at the highest level and they know how to play together. We're still trying to figure things out."
The Nets (11-6) made it close with a 63-point explosion in the second half, which was only necessary because they gave up 61 points in the first half. Playing without Brook Lopez (sprained foot) and Reggie Evans (flu), the Nets' defense fell apart. The Thunder (15-4) shot 60.6 percent from the field, 50 percent from 3-point range and went to the foul line 34 times.
"I was disappointed with our effort," Coach Avery Johnson said of the first half. "We were playing like we were giving them too much respect. And I didn't see the Brooklyn Nets."
Kevin Durant scoring 2 of his 32 points against the short-handed Nets, who were without Reggie Evans and Brook Lopez.
The Nets trailed by as many as 16 points but cut the deficit to 2 points three times in the final four minutes. Durant answered each time, finally snuffing the Nets' rally with a driving layup — aided by a goaltending call on Kris Humphries— with 1 minute 52 seconds left.
Humphries appeared to smack the ball at its apex, but the officials ruled it an illegal block, a call they confirmed after watching a replay. Asked about the call afterward, Johnson gritted his teeth and inhaled.
"I thought Humphries did a great job of coming over and getting that," he said. "I'll have to look at it again. But boy, that was a big one."
Humphries said, "One of the refs told me it was as close as it could be."
A block would have meant a chance for the Nets to tie the score. The goaltending call meant a 4-point deficit, and desperation. Gerald Wallace, who hit four 3-pointers in the third quarter, missed a try from 24 feet, and Williams missed a tough nine-footer in the final minute.
No one could match the pure prowess of Durant, who scored an effortless 32 points, going 9 for 16 from the field and 12 for 12 from the foul line.
"That is a good team, especially at home," said Westbrook, who had 25 points and 9 assists. He added, "We were up and we should have done a better job of playing with a lead, but they are a good team."
Williams broke out of his recent shooting funk, hitting 10 of 20 shots and 5 of 9 from beyond the 3-point arc. Joe Johnson added 17 points, making this easily the best collective performance from the Nets' star guards since they became teammates. Andray Blatche, who started his third straight game in place of Lopez, had 19 points and 11 rebounds.
"I was looking for a game like this," Williams said. "It stinks that it was in a loss. But I'm definitely happy that I got going a little bit."
The Nets nearly saved the night with a 38-point third quarter, their highest-scoring period this season. Williams scored nine quick points, including a pretty spinning layup, as the Nets knocked the Thunder's lead to single digits.
Then came the booming "Brooook-lyn" chants and the 3-pointers, in steady syncopation.
The Nets hit five in the final minutes of the third period, as the crowd came to life with every swish. Wallace hit four of them, his last one cutting the deficit to 88-86. Durant answered with a quick basket, a pattern he repeated all night, as the Thunder beat the Nets for the seventh straight time.
"It just kind of shows us," Williams said, "that we still have a little bit of a ways to go before we can be considered one of the upper-echelon teams."