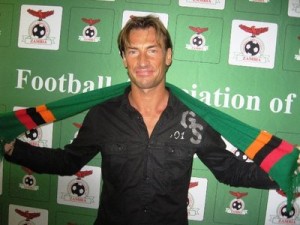 Thursday evening in the prestigious State House Banquet Hall in Accra where was held the ceremony awards of the Confederation of African Football, Herve Renard was named best coach of the year.
The French coach of Zambia thanked his compatriot Claude Leroy, who has orbited him.
"It's fantastic. I am grateful to the First President of the Zambian Federation, Kalusha Bwalya, and I am pleased that the performance of the Zambian national team have also been rewarded (the Chipolopolo won the trophy of the team of the ed). I extend warm thanks to Claude Le Roy, who was the first to giveyear me a chad of the Black Stars of Ghana.nce in Africa in 2007, "said the former assistant of Le Roy at the head of the Black Stars of Ghana.
Read also:
http://en.africatopsports.com/2012/12/23/glo-caf-awards-yaya-toure-i-am-honored/