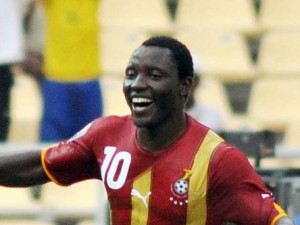 Asamoah insists he can play a key role for Ghana when the Black Stars chase a fifth Africa Cup of Nations title in South Africa.
The 24-year old has emerged as one of Ghana's highest profile players after a summer move to Juventus for whom he has become a regular in both the Italian Serie A and the Champions League.
But although he has made more than 40 appearances for his country, he has often been criticised for his performances with suggestions that his performances are below the standard he reaches for his club.
It is a perception Asamoah is desperate to change as he heads into his fourth straight Nations Cup having played for Ghana in 2008, 2010 and 2012.
"We have our way of thinking as footballers and fans have theirs too," he told BBC Sport. "There is a big difference in the way we play at Juventus and the way we play at Ghana. The training is different too so you can't compare the national team to a club side.
"I always try to do my best. It is not like I am here and I don't want to play and do my best. I always want to fight for the nation. There are days that people say I didn't do well but it doesn't kill my spirit. It rather motivates me to do more."
One of the biggest dilemmas facing Ghana coach Kwesi Appiah will be where best to utilise Asamoah's huge talent.
At Juventus he has played as wing-back on the left, putting in a great shift when tracking back and providing a vital source of assists when the side has gone forward, while for Ghana he has always been played in a central role.
Asamoah insists he is not fussy about where he will play in South Africa. All he wants, he says, is to be part of a team that will function efficiently as a unit and win games.
He said: "If we are united, I think we have the quality of players to win it with the right fighting spirit. Football is not about individuals. It's about team spirit and the hard work."
Asamoah barely featured for Ghana at the 2008 Nations Cup when he was a surprise inclusion in the squad. But two years later, he was very influential as Ghana reached the final, where they lost to Egypt.
Earlier this year in Gabon he was again a key member of the squad that came short after falling at the semi-final stage to Zambia.
He understands the expectation to win again will be huge and he is confident the Black Stars will thrive on it.
"I am not surprised because every fan would like to win something for their country, so for me the expectation is normal," he said.
"For us, the players, it has to motivate us to say 'okay our country needs this so we have to work and push hard to win it and bring the cup home'. So I agree with the mentality of the fans. It will motivate us to do our best."
Asamoah is playing with confidence which comes from the start he has made at Juventus since his move from Udinese in the summer. Not many people gave him a chance of playing but he has become a regular at the Italian champions and credits that to the sort of company he trains with on a daily basis.
"My first day at training when they all returned from the European championships I was so happy because I used to watch Andrea Pirlo play for AC Milan and Gianluigi Buffon on TV so it is amazing playing with them now.
"The motivation they give us can help a young player achieve more if you learn from it and for me it has been really helpful."
Ghana's fans will hope Asamoah has learnt a lot from the likes of Pirlo and will be able to produce his own brand of magic on the big stage as he attempts to help Ghana end their long trophy drought.