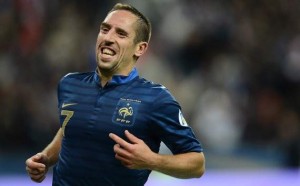 Bayern Munich winger Frank Ribery has reacted to Wednesday's official draw of the 2013 Africa Cup of Nations, saying he would give moral backing to Algeria, who are placed in Group D alongside continental giants Cote d'Ivoire, Tunisia and Togo.
The 29-year-old France international said he chose Algeria because they are his in-laws since his wife Wahiba is of Algerian descent.
"I've got an Algerian family because I'm married to an Algerian since 13 years. So it is quite logical for me to root for the Fennec Foxes amongst the 16 teams coming to the 2013 Africa Cup of Nations," the former Marseille player told Berbere TV on Friday.
"Besides, I watched with my family the Algeria team against Libya in the final qualifying game and I was very happy with their performance and victory. You can see the outfit's determination for goals. I wish them all the best at the South Africa 2013," he said.
Ribery converted to Islam in 2006 and adopted the name Bilal Yusuf Mohammed. The couple has two daughters and a son.