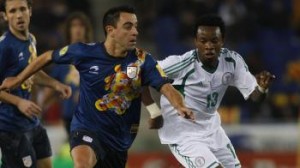 Group opponents of Nigeria in the Afcon 2013 tourney, Burkina Faso and Zambia sent spies to monitor the Nigerian versus Catalonia selected game in Barcelona on Wednesday and they were pleasantly surprised at the quality on display.
According to Assistant Coach Gydounou Valere, the new faces in the Nigerian set up, was a surprise to many : "Some of the coaches and journalists who came to spy the team had to approach me, saying where the big names that we are taking to the Nations Cup are and I told them that they are seeing them right there on the pitch", he said.
The former Assistant Coach of Togo and Mali says Nigeria is on the way to causing many surprises at the Afcon tournament and urged for total backing from all and sundry.
Nigeria will next take on Cape Verde Island next week in another warm up game in Portugal.