Motor Fire Academy was defeated by Ndola Youth Football Club yesterday by 1-0 to arise in the champions of the 2013 Sport for Positive Lifestyles tournament held in Ndola.
The Norwegian Government, United Nations International Children's Education Fund (UNICEF) and Sport in Action initiates the tournament for attraction of over 300 participants from 20 youth academies in Ndola.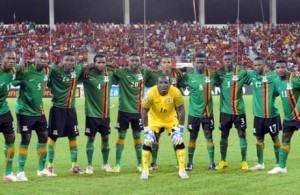 Motor Fire received a set of five footballs and a trophy while Ndola Youth walked away with a trophy of five footballs and a set of football jerseys.
Madalitso Soccer Academy beats Sharp Wits Soccer Academy 4-0 to claim the championship which was contested by three teams in the girl's category.
Frankson Mushindu Sport in Action director thanked the three sponsors for the gesture and said the tournament served as a catalyst for the youth to refrain from indulging in vices that would impact negatively on their lives.
Mushindu also called for the reintroduction of sports at grass root level in order for Zambia to produce future successful sports men and women.
 Read also:
http://en.africatopsports.com/2013/01/13/ac-milan-ronaldo-supports-kevin-boateng