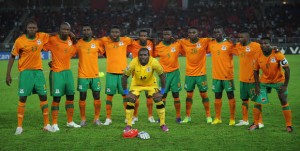 A highly respected member of a close-knit Zambia squad, Joseph Musonda embodies the faith and self-belief of the Copper Bullets better than anyone. With just days to go before they begin their CAF Africa Cup of Nations defence in South Africa, the vastly experienced centre-half is convinced they can put some uncertain recent performances behind them and shine on the big stage again.
While team-mate and close friend Jacob Mulenga feels the reigning champions will be firmly in the spotlight when the tournament kicks off this weekend, Musonda has no doubt they can take the pressure in their stride.
"This Africa Cup of Nations in South Africa will be like playing at home for us," the 35-year-old central defender, who has been capped 73 times by his country, told FIFA.com. "We're used to playing here and we'll have lots of our fans cheering us on too.
"We don't feel stressed and we're all pulling together, which makes us strong," continued the veteran, reflecting the serene, unruffled approach favoured by the team's French coach Herve Renard. "We are united and ready to fight for each other. We don't want to put needless pressure on our shoulders."
Surprise African champions at Gabon and Equatorial Guinea 2012, after defeating the highly fancied Côte d'Ivoire on penalties in the final, Zambia start their bid to retain the continental crown on Monday.
The faith and togetherness that took them to that unexpected triumph are still very much in evidence, even if recent results have been less than impressive. The Copper Bullets have failed to score in their last four games, giving genuine cause for concern to their fans.
Taking stock of their lacklustre warm-up displays, Musonda, a member of the side that conquered Africa last year, said: "The team has barely changed over the last year but we're making more mistakes, as our last few games have shown. We need to put that right and that's what we have been looking to do in the build-up. We have been pushing ourselves harder in training and we will be ready for the first game."
"We are working even harder this time than we did in preparing for last year's competition," he said, before explaining the reasons why: "Everyone will be gunning for us. We're not outsiders any more, but the team to beat.
"A lot of sides have the trophy in their sights, which means every game will be a battle and we will have to be on our toes. We are ready for the fight though, and the coaching staff keep pushing us to achieve, which is just what we need."
A two-time Zambian league champion with Nkana Football Club in 1999 and 2001, Musonda should feel very much at home when the 2013 Africa Cup of Nations gets under way, having spent the last five years with South African club Lamontville Golden Arrows, who are based in Durban.
It was only four months ago that Musonda returned to action after sustaining an injury early on in last year's continental final against the Ivorians in the Gabonese capital of Libreville. Little wonder, then, that he is anxious for Zambia's title defence to begin: "I can't wait to get out there. This competition is a very special one for me and we have confidence in ourselves."
Head coach Renard shares that faith in his side: "There are a lot of experts who don't think we can win the title and they don't want to stick their necks out. It's easier for them to say that Zambia will never win the Africa Cup of Nations again."
"It's vital we start the competition with a win, like last year," added the Frenchman, in reference to his side's tournament opener, expressing a view shared by his dependable central defender: "We have to win the match against Ethiopia. That's essential."
Musonda has been working hard for the challenge ahead, linking up with the rest of the squad at the start of their pre-tournament schedule on 27 December. Though their preparations ended with a goalless draw against Norway last Saturday, the Zambian stalwart is not concerned, his confidence unshaken in the recipe that brought them success in 2012.
"This squad is a family," he concluded. And in Musonda, the Zambians have a father figure they can look up to.