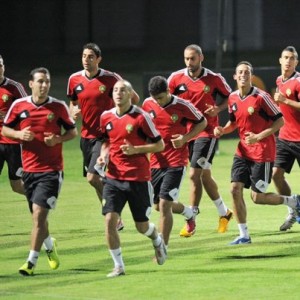 With a single point meter, Morocco and Cape Verde are already under pressure.
During the first day, these two nations have finished on the same score 0-0. Morocco facing Angola and Cape Verde South Africans face. However, if no tonight, Moroccans are at greater risk, with a final match against the hosts of the tournament.
After the kickoff, the Morocco triggering hostilities by a first ball attack from the 8th minute. Bergdich is perfectly served in depth and can progress to the lateral surface. It sends a center back, but no partner was there.
Sharks blue on their side against change clearly. They fail to put pressure on the Moroccans.
Once the ball is recovered, the three attackers are quickly forward. Despite this system, Cape Verde has clearly dominated the first half by getting the best opportunities. This domination is realized in the 35th minute. Sharks striker, Platini scores.
Mendes catches the ball in the center circle, he began against the leather and slides in between for her attacker, which stings the ball left over Lamyaghri and opens the brand! Action clear and deserved goal.