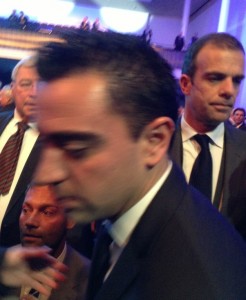 Zurich, the Golden Ball award to Lionel Messi. January 7, 2013. Gala dinner … I photographed my friend, Xavi skilled Barca midfielder.
Hurrying to leave after the coronation of Messi he said: "Please Basile, i will join my potos! We shall meet at Barcelona whenever you want!
My coach told me that you liked me! It is a great pleasure for me to meet you. I picked balls on your side Barcelona / Marseille impressed by your thighs full of "oil". Come and see me, here's my number!
Good luck on your blog Africa Top Sports.com and Happy New Year to you all!