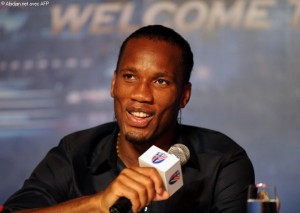 On Monday, Galatasaray announced a deal that would see the 34-year-old Drogba join up with them immediately after the African Nations Cup currently ongoing in South Africa.
But Drogba's Chinese Super League club, who he joined from Chelsea last summer, issued a statement on their website describing themselves as "deeply shocked" by the announcement, and insisting Drogba remains under contract in China.
"We understand that Drogba is eager to participate in the European Champions League," the statement added.
"Shanghai Shenhua Football Club and Drogba on July 1, 2012 officially signed a formal contract for a period of two and a half years. The club has acted in accordance with this contract, and has effectively fulfilled the responsibilities and obligations of the club.
"Currently, Drogba is still a player of Shanghai Shenhua Football Club, the contract between the two parties is still within the period of validity.
"Shanghai Shenhua is prepared to collate all the evidence and information and submit it to FIFA in order to protect its interests." Galatasaray announced that Drogba had agreed an 18-month deal to move to Turkey, where he would join up with Wesley Sneijder as part of an ambitious new-look side.
Drogba, speaking through his representatives Sports PR Company on Twitter, said at the time: "The opportunity to play for this great club was an offer that I could not turn down.
"I am looking forward to playing in the Champions League again, against the best clubs in Europe."
Despite his protests to the contrary, reports persisted that Drogba's move to China had not worked out, largely due to boardroom wrangling, prompting him to seek a return to Europe.