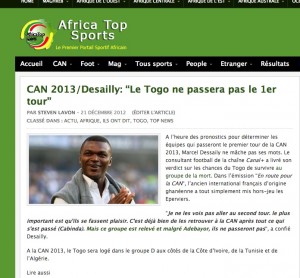 "I do not see them participating in the second round. The most important is that they enjoy themselves. Their participation in this 2013 Afcon  is already enough  after all that happened (Cabinda)."
"Even though this group is raised and despite Adebayor, they cannot make it"
Marcel Desailly should have paid attention before saying something like that. It was last December 21.
We know subsequently that Togo has been qualified for the first time in its history in the quarterfinals of the Afcon  and will face Burkina Faso.
Remains that the Togolese cannot really forgive the former Marseille player! Reactions, including on the site of Africa Top Sports.com are many …
Marcel, you should say something more kind now …….