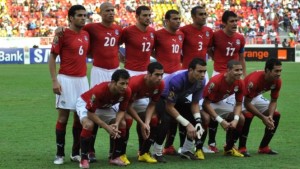 The national team of Egypt was conspicuously absent from the 29th edition of the African Cup of Nations.
The Pharaohs are under the aegis of the Egyptian football Federation. It was at this instance that it has been awarded the title of the worst African federation to the first edition of the Africa Top Sports Awards.
Since the political upheaval of 2011, the Egyptian championships are suspended. Meetings of the national team are held without spectators for safety reasons.
Absent in the Afcon 2012, Egypt's national team also missed the qualification for Afcon 2013 against the Central African Republic which won (2-1).
The Pharaohs of Egypt yet have an impressive track record. First African team to participate in the finals of the World Cup (Italy 1934), Egypt won Afcon seven (7) times.
The national coach, Bob Bradley (U.S.) and the federation in charge of discipline must rethink the Egyptian football with the emergence of new big names such as Burkina Faso, finalist of afcon 2013.
Palmares
World Cup: Best result: knockout stage
African Cup: Winner 1957,1959,1986,1998,2006,2008 and 2010; finalist in 1962
Jeux de la Francophonie: Finalist in 1994
Arab Cup of Nations football: Winner in 1992