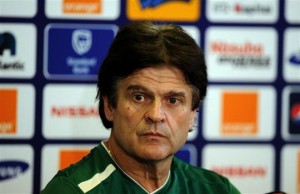 Rififi still in the home of football in Togo. While the list of players summoned for the Hawks next game against the Indomitable Lions of Cameroon is expected, it appears that a new standoff ensued between coach Didier Six and the FTF (Togolese Football Federation).
Leaks to the FTF confirm that the French coach has not called Emmanuel Adebayor, Kossi Agassa and Prince Ségbéfia for the next meeting of FIFA World Cup 2014.
The first two pay their fit of bad temper on media after the elimination of Togo during the Afcon 2013. The Auxerrois  has in turn stepped aside because of his poor performance against the Stallions in the quarterfinals. Obviously, Didier Six is still trying to settle accounts. A situation that does not fit the Togolese football's governing body.
On the side of the FTF therefore, there is no question of letting the coach of the Hawks decide alone the national cause. The absence of Adebayor and Agassa (two frames selection) would be a serious handicap for the trip to Yaoundé.
We remember a problem of understanding on the list of 23 for the Afcon had created misunderstandings between the French and their employers. So, the official list for Cameroon is expected. Meanwhile, notices are being sent to the players clubs. While his future is already dotted, there's a new episode that could decide the fate of Didier Six at the head of the Hawks.