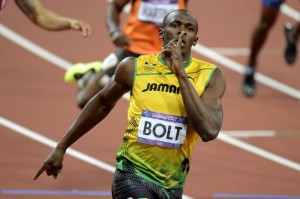 The best athlete of the year 2012 will run the 4x100m as part of a Jamaican team on Thursday 27th June.
Usain has been a regular visitor to the Czech city for a meeting which currently has IAAF World Challenge status and attracts many of the world's top athletes.
In a statement prepared for the announcement Usain said "I'm looking forward to running the 4x100m in Ostrava this year. It will be my seventh time to compete in the Golden Spike meeting and my first time to run the relay there. The meeting is only a few days after the Jamaican Championships and the relay fits nicely into my competition programme."
The final line up of the team will be decided by Coach Glen Mills but is likely to include the likes of Racers Track Club athletes Yohan Blake, Kemar Bailey-Cole, Mario Forsythe and/or Kimmari Roach.
Coach Mills told the organisers, "Racers athletes always return to Ostrava to compete, they like the crowds which are close and the friendly atmosphere. This year due to the fact that Ostrava is going to be after our Trials the best option is to run the relay. I think our team with Usain and Yohan could produce a fast time and I will select the remaining runners of our team at a later stage."