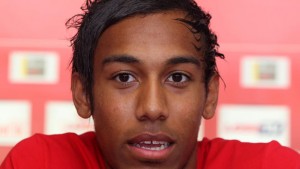 Pierre-Emerick Aubameyang, the Gabonese striker of Saint-Etienne is playing tonight a very important match against Paris Saint-Germain at home.
The opportunity for the Greens to get closer to the third place in the French League 1 and for the player to continue his operation of seduction with the Parisian club.
As well as under contract until June 2016 with Saint-Etienne, the Gabonese international striker – he scored 16 goals in the league for the moment-the striker who is just as old as 23 years is yet interested by many clubs of which Chelsea.
But he is interested in PSG and did not hide it: "I feel ready for anything. Two years ago, I scored two goals per season … if I have to go, I'd like to maybe go through a club. This would allow me not to take the plunge right away, unless I have a really good proposal in a club where I can install, play. Can PSG interest me? Yes, sure, it might interest me. After all, do the Parisian leaders want me? I do not know, we'll see. It would not be bad to stay forward with Ibra, right? '
To be continued …